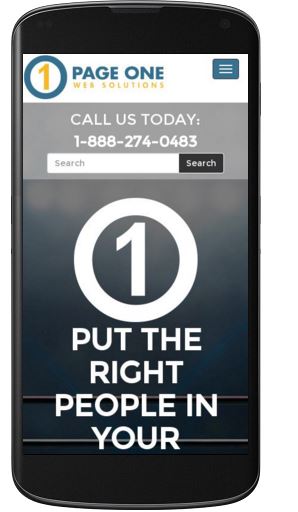 PORTLAND, ME -- April 3, 2015 - Page One Web Solutions, a Portland, Maine web marketing, website design and search engine optimization firm, is proud and excited to announce the launch of their new, responsive website.
After an extremely busy year of building, optimizing, and successfully launching over 40 sites, it has been challenging for the growing company to focus on designing, writing, and marketing its own website. With a staff of 16 talented web designers, developers, SEO specialists, writers, and marketing strategists, Page One takes pride in the sites they produce for clients in a wide range of industries. This underlying pride supported the company's commitment to ensuring that these high standards were reflected in their new site.
The new PageOneWebSolutions.com features streamlined navigation, paired with responsive functionality, and an eye-catching design which reflects both company culture and "ahead of the curve" style that Page One is known for. "We are excited to present our new, responsive website. Our new site provided a fantastic opportunity for us to not only get creative with our own design but also to include new features like parallax scrolling, animated rollovers, and iconography", says Page One's President, Patrick Robinson.
Beyond it's attractive interface, the new site serves a more important purpose for Page One. When potential customers visit the site they will now have an opportunity to review a sampling of past successes in the Case Studies section. Additionally, visitors can subscribe to the site's Blog, which will serve as a means to share the latest industry updates and news."With our updated design, we wanted to take both a simple and fun approach by paying attention to the entire user experience and injecting our company culture. We also wanted a place that we can consistently show off our client work by utilizing an in-depth Case Study section. As always we'll be focused on adding new content to the website."
As the site officially launched on the evening of Thursday, April 2nd, Page One exuberantly celebrated after months of late nights, over-consumption of coffee, and above all, an unwavering drive to build a site that would not only reflect the company's personality, but also the unmatched quality of work they produce for their clients.
For more information on Page One Web Solutions and the services they offer, visit P1WS.com.