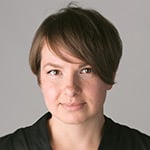 October 1, 2013 – Page One Web Solutions, a Maine based web marketing and search engine optimization firm, is excited to announce the addition of Becky Grzesik. Becky is a skillful writer that specializes in SEO and content marketing that, prior to joining the Page One web marketing team, worked for Eastern Maine Development Corporation. She also recently graduated from the University of Maine Farmington with a Bachelor's degree in Visual Arts and English.
Becky's expertise with the written word and technical knowledge of SEO is a constant asset to Page One. The VP of Sales, Patrick Robinson says, "We hired Becky because of her perfect fit with our company culture of clients-first and continuing education within the company." Page One hires SEO and content marketing writers with real-world experience, that are skilled in various styles of writing, and are knowledgeable about a diversity of subjects in order to better serve their range of clients. Becky's portfolio fulfills these qualifications, and her stylistic voice contributes to the marketing team's initiatives.
Page One Web Solutions has been specializing in creative and technical internet marketing since 2006, and today, they continue to grow their team and clientele. They attribute their success to their balanced and informal company culture, fostering a fun and cutting edge work environment. The accomplishments of the company are cultivated by their knowledgeable and creative team, who continually strive to stay on top of trends and innovations. Page One's offices are located in the heart of the Old Port in Portland, Maine. They pride themselves on servicing local and regional clients, as well as international businesses.