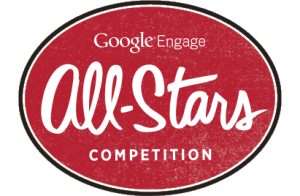 One of Portland Maine's up and coming web marketing firms, Page One Web Solutions, has been named a winner in Google's Engage All-Stars Competition. Culminating with the Google Engage All-Stars Summit at the Googleplex in Mountain View, California, the competition asked web marketers to achieve certain revenue levels using Google AdWords and the Google Engage software.
Page One Web Solutions' Director of Search Engine Marketing, Jenika Scott, has been involved in the online contest from the start, and was both surprised and pleased by her win. The invitation to the Googleplex is an opportunity that online marketers strive for, and it will serve as a valuable opportunity for Scott and her colleague, Page One Director of Search Engine Optimization, David Zwickerhill, to bring fresh web marketing insight and insider tips and tricks back home to Portland.
Zwickerhill and Scott look forward to applying the knowledge they gain during the summit to boosting their current SEO and PPC campaigns they spearhead at Page One. "It's an exciting time at Page One! We are proud to be expanding into new areas of our industry, and this accolade is the cherry on top of a great year. Google is the authority in search, so it is particularly satisfying," Zwickerhill says about the upcoming trip west. They will spend two nights in Silicon Valley, from August 11th to August 13th, and enjoy advanced training sessions, the chance to consult one-on-one with Google experts, and of course, networking with other web marketers from around the globe.
Page One Web Solutions has more than doubled in size since 2011, adding hand picked SEOs, copywriters, developers and account managers. Founder and CEO Patrick Sullivan and his partner Pat Robinson hope to continue expanding their field of talent and their firm's capability to accommodate larger scale and more complex client projects.
Page One's new headquarters is situated on Union Wharf, in the heart of Portland's Waterfront. The firm is comprised of an experienced team of web marketers with diverse backgrounds in several different industries. From website design and development, to content marketing, PPC, and analytics, Page One offers a comprehensive suite of web solutions.