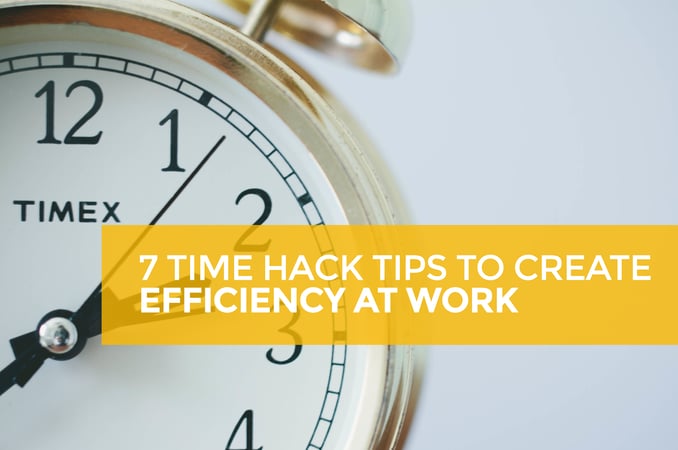 I recently attended Portland, Maine's Social Media Breakfast where the topic of discussion was making time for marketing so that you can grow your business. It's something we all struggle with - how to make the most impact with our time. It's actually all about efficiency and it's something we all do a little differently. I really enjoyed each speaker's perspective on creating efficiencies so that they can accomplish more with the same or less amount of time. Since we all do things a little bit differently I thought it would be a fun way for me to reflect on, as well as share, the ways in which I have been able to get more done with the same amount (or less) of time. Please use the comments area below to share your efficiency "hacks" and I'd love to update this blog with your responses.
My Top Efficiency Hacks:
Hire good people.

There is absolutely NO WAY I'd be able to accomplish the things that I can without hiring awesome people. The trick for me, being the Type A perfectionist that I am, is letting go of doing things "my way" and allow these smart, capable, and resourceful folks do it their way. I know for a fact that my way isn't always the best way, so it's a breath of fresh air being able to let go and know that work will be accomplished as good, if not better than I could ever do it!

Just start.

I will be completely honest, when I have too much on my plate I freeze up. I become so overwhelmed that I get paralyzed. I know I am not alone in this so I will share my way to overcome that is just do

something

. Anything! Just begin. Momentum will continue to build and that will help build my confidence in knowing that I can accomplish the items on my task list in a timely fashion.

Prioritize.

Take a look at your task list, what will give you the most bang for your buck a.k.a. your "time"? What are the things that you are responsible fpr doing that are to meet others' deadlines and what items are the deadlines you made for yourself? Being realistic about priorities can certainly help me create a more efficient workload or even help me find new pockets of time in my schedule.

Try out some efficiency tools.

There are a BILLION tools and apps out there so don't waste your time trying them all. I recommend taking a look at your day and trying to find out where you are getting stuck. Ask yourself what kinds of things could make your life easier? With a bit of research, I am sure you could find a tool (or two) that would help you overcome those daily challenges.

Don't try to do it all.

I also like to refer to this hack as the "Stay in your own lane" hack. I am totally guilty of trying to do everything and be everything to everyone. It's not efficient and on top of that, it's a huge energy suck. This isn't to say that you shouldn't learn new skills or try new things. This hack is more about being sure you're doing your job, the job you're best at, first. Then, when you have the time, sure, help someone else out!

Recharge your battery.

Take time for yourself to reboot. I struggle here, and I am sure my fellow Type A personalities will feel me on this. I recall saying things like "I don't even know

HOW

to relax" to my husband. We spend so much time doing, doing, doing and going, going, going we forget to practice relaxation. But holy cow, do we need it! We really do, all of us. Of course, you'll get more done if you work all day and into the night every day, but that doesn't necessarily mean you're being efficient. On the contrary, being efficient is being able to get the same amount accomplished in less time that that person running himself ragged. Take the weekend to relax, do something for yourself and recharge your energy. You will find that by doing so, you can be more efficient and live a more balanced life.

Ask for help.

This is a tough one! We worry that if we ask for help we may appear weak. But it's just the opposite. Asking for help is so hard that we need to perceive that anyone that has the ability to ask for help, is demonstrating a quality of strength. It's knowing and understanding your limits and respecting your own boundaries for balance between work and personal life. Asking for help doesn't even mean that you're asking for someone to do something that you're supposed to do to take it off your plate. It could mean asking help with prioritizing tasks or asking for support in executing a task.
When you are marketing your business, especially online, there are so many tasks that can be put on your plate. Things like general web maintenance items or running specific promotions on social media, and everything in between - it can very easily feel overwhelming. We speak with small business owners and marketing directors regularly and we totally understand your pain points. As a full-service web marketing agency, we can also help lighten your load. Maybe it's time you ask for some help!
Creating efficiency in your day to day life isn't something that can be done over night. It takes reflection, some trial and error, and small, consistent tweaks and adjustments. Do you have an efficiency hack that you'd like to share? We'd love to hear it! Leave your time hack in the comments section below!