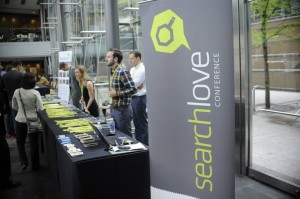 Web marketers in the know gathered this week for Distilled's coveted SearchLove conference in Boston. Every face in the auditorium was glowing by laptop-light as SEOs, developers, CEOs, and even copywriters like myself were poised to jot down each and every knowledge-gem that was dropped by the illustrious presenters.
The topics ranged from across the spectrum of web marketing, covering all aspects of our complex and ever-evolving industry. From theoretical and almost philosophical talks about applying behavioral psychology to inbound marketing and building brand personae, to more nitty-gritty strategies for scaling outreach, better reporting, and new ways of leveraging local search, we certainly got schooled.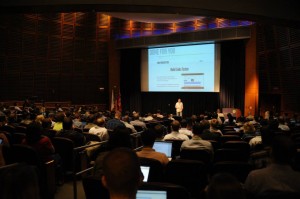 Web marketing gurus including Rand Fishkin of seoMoz, Wil Critchlow of Distilled, Annie Cushing of Annielytics and Wil Reynolds of Seer Interactive shared their insights about fresh trends, how to best adapt to changes in the dynamic realm of search, and how to navigate towards the best link building, great content creation and client relations techniques for our unique company.
We have returned to Page One with a fresh outlook on both the big picture ideas we are excited to discuss as a team, as well as several clever, under-the-hood tricks that we can implement immediately to help boost organic traffic, conversions, and even site speed!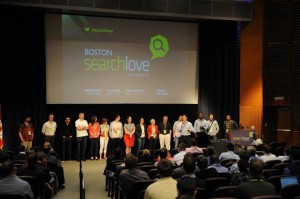 There is never a clear cut path to success in this business--it takes a strategic formula comprised of testing, trials, failures, analyzation and creativity to stay one step ahead of "The Goog." Here at Page One, we are proud to constantly add to our education, skill sets and tricks up our sleeve by attending conferences like SearchLove, so we are ever prepared to serve our clients best!
The SearchLove Line Up 2013

Neil Patel of KissMetrics—Consulting Lessons from the Front Line

Annie Cushing of Annielytics—Take Credit Where Credit's Due

Bill Slawski of Webimax—Future Search

Wil Reynolds of SEER Interactive—How to get UnStuck

Kate Morris of Distilled—Languages and Countries

Pete Meyers of SEOmoz—DIY Data Driven Content

John Doherty of Distilled—Creating Executive Support for Client Management

Eppie Vojt of Red Ventures—Scaling Outreach (without looking like an idiot)

Rand Fishkin of SEOmoz—Behavioural Psychology and Inbound Marketing

Mackenzie Fogelson of Mack Web—Think Differently: How to Use Content, SEO, and Social Media to Achieve Big Goals for your Business

Wil Critchlow of Distilled—The Importance of Technical SEO

Abbie Covert of Abby the IA—Search is the Front Door to UX

Phil Nottingham of Distilled—Leveraging Video for Linkbuilding

Mike Blumenthal of LocalU—Anatomy of Local Search Results

Ross Hudgens of Siege Media—Actionable Content Marketing Strategies

Rebecca Churt of Hubspot—Why Personas Should be Central to Your SEO Strategy
Please feel free to contact me at noella@pageonewebsolutions.com if you are interested in learning more about what we learned at SearchLove or have questions about any of the speakers or presentations listed.
Images provided by Zwickerhill Photography