Ahhhh… I love the holidays! So much cheer and happiness, twinkling lights, savory foods, laughter with friends and family - it's ALL good! One of my favorite things about the holidays, that I try to spread throughout the year, is a sense of gratitude and taking the time to appreciate the things I am thankful for. So many times life gets busy and we are in our routine that we don't actually stop and think (or say), "I'm really thankful I have…" whatever it is - a person, place, thing, etc. I thought, with the upcoming Thanksgiving holiday, it would be a great opportunity to crowdsource the folks in my office and find out what they were thankful for. I asked them to share something they use that enriches their job or makes their job easier; something they are grateful for. Here's what my awesome coworkers had to say: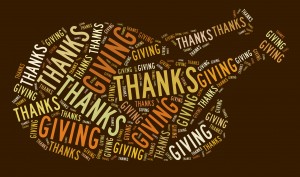 Content
"I am thankful for CopyHackers.com, because they have the best unique ideas for taking content up a notch, making it more interesting, making it more conversion friendly, and more shareable. They address new ideas in our industry from a writer's perspective, not a coder or SEO or techie point of view, making the topics more relevant and easier for me to apply to my work." - Noella, SEO Copywriter
Tools
"I am grateful for the SEO Spider Tool, Screaming Frog. It lets me quickly identify problem areas on a potential client's and new client's website. - David, SEO Director
"I am thankful for the online collaboration software, Basecamp. It's a great way to keep track of client conversations and create tasks, so much better than e-mail! - Eric, Front End Designer/Developer
Challenges
"As tough as it is sometimes, I am thankful for an ever-changing environment that forces us to always be on our toes. Like how Google is removing the ability for site owners to track organic keywords - it's going to force a shift in how we analyze our data and how we make strategic decisions." - Patrick, CEO
Expertise
"I am most thankful for the scripting language PHP - freely available, I have built hundreds of sites using it and making my living using it day-to-day for over a decade. - Scott, Web Developer
People
"I am thankful for my Development Team. When I started at Page One, I was the only person on the development team located in our Maine office. I had to do all my collaboration and reporting to a team and a manager all the way in Ohio. It was adequate, but not very conducive for real-time communication or true team-building. Fast-forward to now, where the entire team is under one roof. Not a day goes by where we aren't rolling over to each others' desks to ask a question, getting a fresh pair of eyes to look at a project, or bouncing ideas off of eachother." - Jeremy, Production Manager
We certainly have lots to be thankful for as internet marketers! Access to great content like blogs and webinars, tons of amazing tools, and the unique experiences and expertise we each bring to a team - all of which make each of our jobs better individually as well as collectively. That is what I am very thankful for - what each individual person on our team brings to the entire group. We're constantly sharing things we know or things we learned with each other and even teaching each other new ways of doing things. We have a very diverse skill set at Page One and by sharing our knowledge with each other it allows us to be a smarter, more cohesive team.
What are you thankful for this year?