The gang here at P1WS has been getting a lot of questions as of late about Google… mostly centered around the fact that it seems like the traditional "organic" space is shrinking, while paid ad space is growing. This does seem to be true especially in certain niche industries. Over the last year or so, Google has started to only display 7 organic results and adding 3-4 additional paid ads to the first page of the SERPs. That alone is a dramatic change from the previous 15+ years of search marketing and is forcing some companies to diversify their campaigns to include paid search (aka SEM or PPC), especially those that may now find themselves on page two for a search that they historically enjoyed a page one ranking.
But moreover from this significant change that has affected some industries, a much bigger overall shift is taking hold across almost all industries. The "Google Local Pack" is presented in a large number of search queries as we head into 2017. Take the example below, and let's suppose for a moment that I'm a tourist visiting our lovely port city here in Portland. I'm looking for some of our world famous seafood for dinner, so I do a quick search for "seafood restaurant". Here's the results: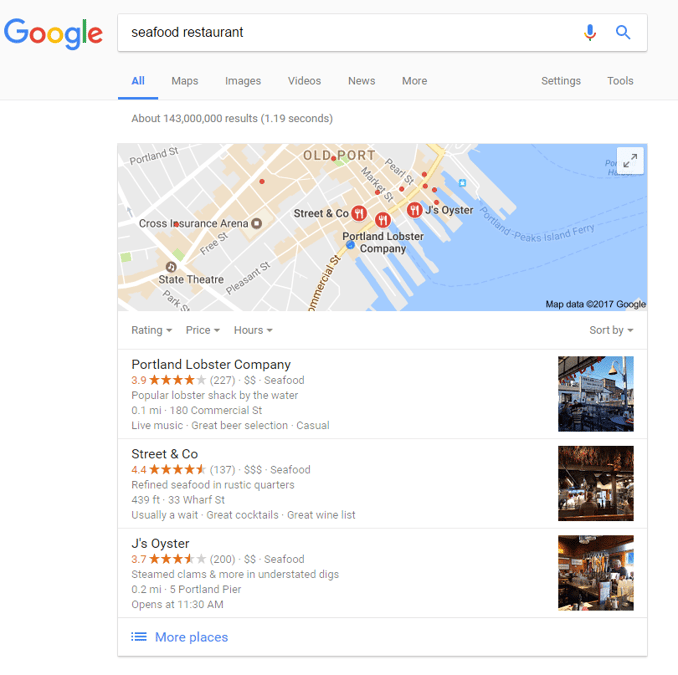 Notice the results that completely dominate the first page for this search query. All 3 of these results are contained within the "Google Local Pack" (GLP) which has, in essence, supplanted the top 3 organic results that used to enjoy that prime placement for this search. What's even more interesting is that the actual organic results that now live below the local pack don't have any of these 3 restaurants listed in the GLP contained within: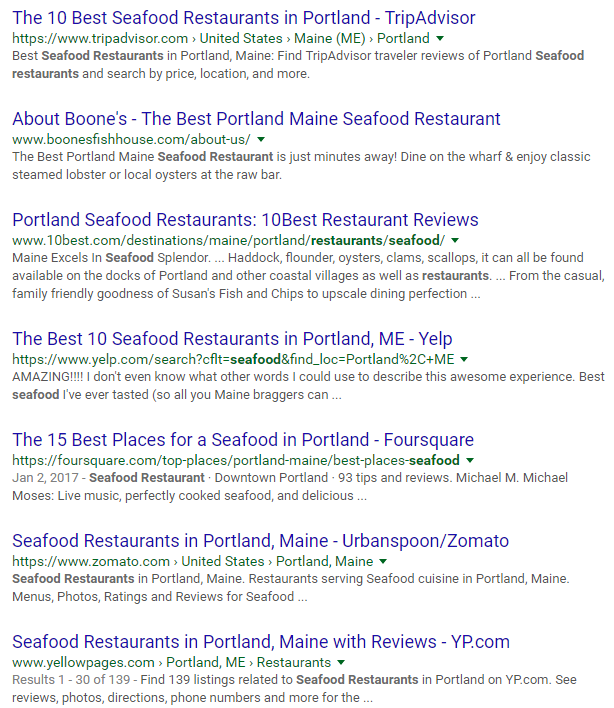 In fact, all but one of these organic results are web directories, such as Trip Advisor, (my absolute favorite travel app btw) or Yelp, etc. So you can see a very clear shift happening for any type of business that has a local focus, which makes a lot of sense. Notice in my the screenshot… see the little blue dot on the map? That's me, sitting at my desk in our office here on Union Wharf in downtown Portland. Google knows where I am and then, as a result, is presenting me with GLP results that are in direct proximity to where I am currently located. That's a pretty slick user experience, don't you think? And that's always going to be at the core of what Google does - optimizing their user's experience. That's what keeps their users coming back and keeps them as the dominant leader in search.
OK… so with that all said you are probably wondering, "How do we put our best foot forward to take advantage of the Google Local Pack?" I'm glad you asked… here's a list of things that you can do starting now to give yourself the best chance to benefit from the GLP.
Verify your business profile with Google My Business.

You can locate and claim your business listing with Google (if you have not already done so.) The easiest way to do this is to simply search for your business on

Google Maps

. Once you have located your business you can claim it as yours… and then Google will offer you one of a few different options to verify that you do in fact own the business (or at least have the authority to claim and verify the business.) Most often Google will mail you a postcard within 7-10 days with a PIN number on it, which you need to then enter to prove you are who you say you are. Less often, they may allow you to verify the business via a phone call which is instant.


Fully complete your business information.

Google favors profiles that have complete and correct information. This includes location, hours, category of business, etc. Be sure to completely fill out all of this information accurately and that will give you the best chance of being rewarded by Google with a spot in the GLP. Pay close attention to your hours of operation, including holidays, etc. Google doesn't want to send users to your location only to discover it's closed because you didn't keep accurate hours updated. I'm speculating, but I'm willing to bet that Google penalizes business profiles that get frequent reports of inaccurate information,

especially

hours of operation.


Add Photos. I get some resistance to this from clients, most often because they say, "we don't have a business or product that is a good fit for publishing photos." And my response is always the same… "so what?" I'm not saying that having images of a bunch of widgets is gonna blow people away, but the fact is that Google does factor this in when determining who gets placement in the GLP. So suck it up, and locate at least 10 images that you can use to upload to your Google My Business Profile.


Manage your reviews.

This is the big one… and in my view it's far and away the most important of any of these items.

The companies with the most 4 & 5 star business reviews dominate the GLP.

The first step is actually obtaining Google reviews for your business from your customers. This may seem like a daunting task, but it's actually quite easy to do. Admittedly we at P1WS were slow to start to do this ourselves, but we finally did recently and it has already resulted in a return on our time investment, just in the last two weeks. All it takes is a little bit of your time. Process goes like this… take your customer email contact list and upload it to the email marketing software of your choice (

MailChimp

is free for up to 2,000 contacts.) Next you craft a simple email that explains to your customers what you are doing in asking them to write a short review for you on Google, and then provide them with a link to where to do so. That's it! Once you have obtained a number of business reviews, then you should respond to each of them to show Google that you are serious about interacting with your customers, regardless of the contents of the review.
Out of the 4 items listed above, #4, getting Google Reviews, is really what you are after that will give you the best chance to start to get top placement in the GLP. The P1WS team can speak from direct experience to the benefit of gaining exposure through the GLP, it really works.

How to Get Google Reviews for Your Business
If you have any questions or comments about this topic please feel free to leave a comment on this post. If you need Google Reviews, let us help you! We've put together some great tips on how you can begin getting reviews for your business. Click the link below and get access to our tips.