We are so stoked to recap Page One's first annual Day of Giving. To kick our new tradition off, we spent the morning in our own backyard cleaning up the East End beach. While it was humid and gray outside, our spirits were all sunshine. We rolled up our sleeves and collected a stunning amount of litter and marine debris, with the help of the amazing non-profit, Friends of Casco Bay.
Oh, the Things We Found!
We used a really cool app called CleanSwell to easily track what we collected. In the course of just a few hours, we picked up more than 60 pounds of trash, including over 400 cigarette butts and a LOT of plastic.
Do you know what the most shocking part of the clean-up was? Friends of Casco Bay hosts Coastal Clean-Ups on that very same beach 1-3 times per week! Yes, per week! That's how much litter accumulates over a weeks time. Small things like bottle caps, the corner of a granola bar package, a left-behind dog waste bag-- these things add up and being on the shoreline, they eventually end up in our ocean. This made a huge impression on us.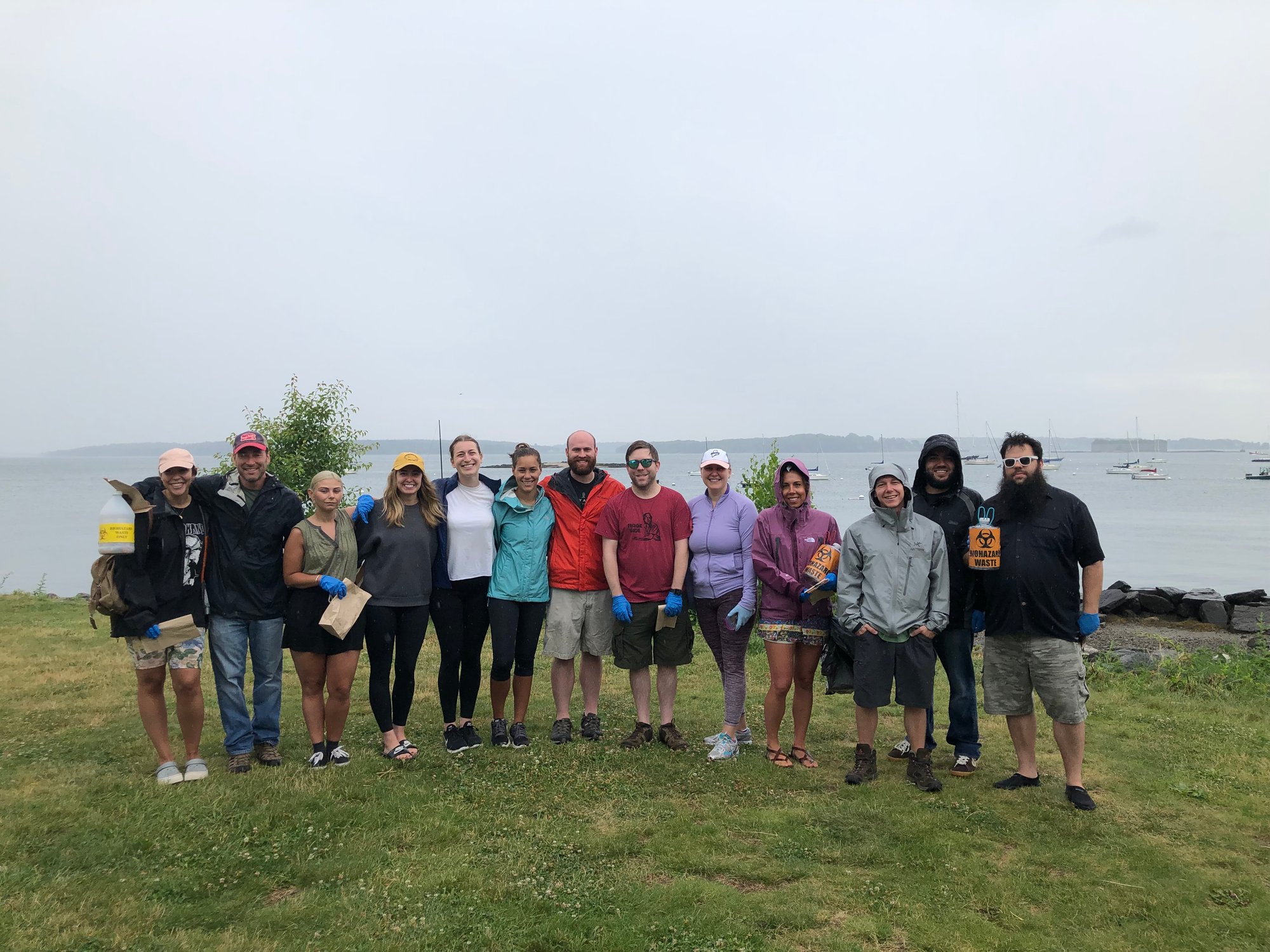 Why Did We Choose Friends of Casco Bay?
Honestly, we love what they're doing and we wanted to be apart of it! Friends of Casco Bay work to keep the "Bay blue through monitoring the health of the Bay, inspiring residents and businesses to take care of our coastal waters, supporting efforts to reduce pollution, and advocating for strong protections for the Bay." This is done in a variety of ways, through science, baykeeping, and community engagement.
You can learn all about what the Friends of Casco Bay team does at www.CascoBay.org. There you can find great resources and ways to support their mission. We encourage you to get involved - while it's admittedly a little depressing and not very glamorous work, it's a lot of fun and very rewarding.
Page One Loves What Maine's All About
Our team felt honored to spend a few hours collecting data, cleaning up our shoreline, helping protect local wildlife, and making our beloved state look more beautiful. The individuals that make up the Page One team live in Maine for its stunning beauty, quality of life, and access to nature. Our crew consists of avid hikers, mountain bikers, beach-bums, boaters, skiers, snowboarders, snowshoers, Maine craft beer drinkers, and, most definitely, dog wranglers. Portland's vibrant culture and unparalleled beauty is part of Page One's identity. We started the annual Day of Giving as a way to give back to the community that we love so much, and we can't wait to get back out there and do it again!