When we're not developing WordPress websites, optimizing blog posts, and creating keyword strategies we have lots of different interests like playing trivia, cleaning trash out of Casco Bay, and eating donuts - just to name a few. We're a well-rounded bunch who are always up for a challenge and when I suggested to the team that we author some limericks for National Limerick Day, they did NOT disappoint.
What is a limerick?
A limerick is a silly type of poem, consisting of a 5-lined verse, with the AABBA rhyming schema. Many times, the third and fourth lines are shorter than the other lines.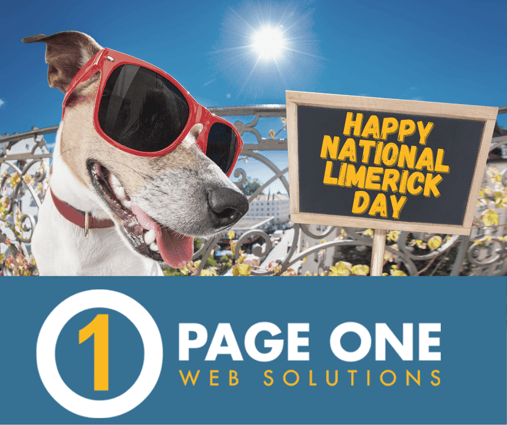 Enjoy these creative and witty limericks and Happy National Limerick Day from the P1WS Team.
An Ode to Incompetence
authored by Chris
There once was a client distressed
Who's website was not yet refreshed
We told them "Surprise!
Hit control F5."
Now on to corporate they've progressed
Ode to Page One
authored by Shayna
There once was a site low in ranking.
Their leads and sales were tanking
They called up Page One.
And we had some fun
Now, some major profits they're banking.
The Best CMS
authored by Jenika
If there was ever a time to confess
That you have made quite a big mess
You decided on Drupal
And then paid quadruple
When you should have chosen WordPress
A Small Oversight
authored by Ellis
There once was a site that ranked poorly
Its SEO suffered quite sorely
Then Page One did some trawling
And found that site crawling
Was blocked in the robots.txt
Tales of Riff Raff
authored by Callie
Up the road there's a dog named Blue
Who lives in a house with a view
He plays with the birds
And anything furred
Thinking life is too good to be true
Alongside Blue is a dog named Abe
Who's been a menace since he was a babe
He fights with his brother
And barks at his mother
But for Dad his naughtiness is saved