The Page One owners, Pat and Pat, are known around here for their generosity. They certainly outdid themselves during our recent holiday party when every employee received a Google Home; even the new guy!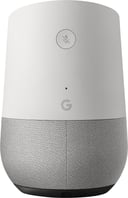 Most of us were excited to try out our new assistants, and I say most because I am one of the few individuals that thinks the always-on microphone is more 1984 than 2016. My officemates set their Google Assistants up immediately while mine spent the weekend in the box. Why am I writing this review, you might ask? Because I learned to stop worrying and love Google Home.
Setup was easy and only required a WIFI connection and an app download to get started. Before I knew it, I had linked my Google account as well as Spotify and Netflix. It really is amazing considering the newness of the technology. I'm sure other users have noticed this, but Google Home will even pick up on the commercial saying, "OK Google." That's pretty darned perceptive! Other than my complaint below, I did have some trouble getting Spotify to play the correct version of a song I was asking to hear. Overall, I am impressed with the functionality.
Here are a few thoughts about Google Home from our team. If you couldn't figure it out, we like our music at Page One:
Pat S - I'm using it to control the lights in my house... since my wife tells me that 'I ALWAYS LEAVE EVERY LIGHT IN THE HOUSE ON!!!'
Pat R - I like that it gives the kids the ability to ask questions and play any music they want.
Jeremy - I like being able to check the weather and news in the morning, and that I can play random mixes of music or songs from my own library to unwind when I get home from work. I also love love love the fact that the volume goes up to 11 instead of 10. Spinal Tap reference ftw!
Lauren - I like to play music when I leave the house so Ellie has something to listen to when I'm gone. And she is not spoiled.
Koren - I love the ability to simply say an artist's name or song title and it will play right from Spotify or Pandora.
Paulina - Easy-to-use. It's faster and more fun to find the answers to everyday questions through Google Home! Most useful tech gadget I've received in a long time!
Jenika - It will give me the excuse to share this cute video of Calvin saying "Google" and maybe it could get picked up by Google! Haha!
Besides that, I love it for the random hands free dance parties I can have in my kitchen, I love the entertainment value of it, like asking for a joke or for it to beatbox. I like how the device learns information the more it is used, like, that "Cynthia" is my mom and what time I normally go to bed. It's pretty cool living in the future.
Becky - Besides having a variety of music and podcasts at voice command, I love that I can add items to my shopping lists (connected to Google Keep) without opening the app, and that it keeps me posted on weather and traffic for my morning commute. It's such a cool piece of technology that makes me feel so futuristic! As my mom said, 'It's like Clockwork Orange...or the Jetsons... It just depends on what mood you're in.'
Chris - I really like having verbal access to the Google Calendar. It's convenient and a smart move on Google's part, as something like that may actually get me to use/depend on their calendar interface more.
Tomisa - Tucker and I don't have to fight who's taking the dog out in the cold anymore. We just ask Google to flip a coin for us.
Alex - I like to listen to music while in the shower, but struggle with getting my phone wet when trying to change a song. Now all I have to do is tell Google what I want to hear and I don't have to worry about any iPhone water damage. I also really like leaving it plugged in a friend's house and controlling it from my phone to throw them off. Nothing like the Pirates of the Caribbean theme song or Butterfly by Crazy Town coming on at unexpected times throughout the day.
And finally, me - I finally gave up the tinfoil hat and decided to let Google listen to my daily life. While I liked the ability to play any song that popped into my head, I feel like there are some lacking features: