Most AdWords Manager accounts have received a notification about Adwords Ad Suggestion changes coming on June 1, 2018. As part of the new AdWords interface, ad suggestions will begin to automatically apply 14 days after the suggestions are made. What does this mean for your account management?
Pushing The New Interface
Google is giving a gentle push towards the new AdWords Interface by having ad suggestions available there. Google claims that the interface is faster, yet it adds loading screen texts and imagery similar to a video game. But, slowness and clunkiness aside, the new interface is where you will have to go to keep or reject ads that auto-apply.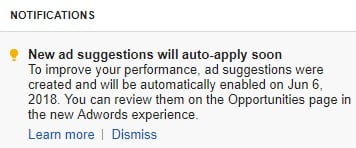 Fine, I'll Use It. Where Do I Go?
Once you have loaded up the new interface (eventually), it's an easy process of navigating to Recommendations at the top of the account menu. From there, you will either see the ad suggestions immediately, or you can click Ads & Extensions to see the ad-specific recommendations.
A sample ad will appear in the box which you can immediately apply. Instead, click on View Recommendation and ensure that the ad is sufficiently relevant to your ad group and account. Often, the generated ads will be acceptable, but you will always want to manually review suggestions for both relevance and readability.
A Tale Of Two Cities
Our personal experience with automatically generated ad suggestions has been mostly positive. One caveat that we will share relates to some local advertising we manage here in Portland, Maine. One of our client's selling points is being located in our city. While you would think Google would know from location targeting, the final URL, the keywords, or existing ad copy; AdWords still auto-generated ad copy that included Portland, Oregon. Luckily, this mistake was caught during our review and the suggestion was not added. Be sure to review all new ad suggestions to avoid these types of mistakes and make sure you're receiving all critical email notifications about your accounts. Living in the best Portland, we don't know why other Portland would even be included as a possible suggestion!