Ever heard of "blogging"? Of course, you have. In fact, it's probably been drilled into your brain over and over again as an absolute must for growth and development in the modern internet age. But no good business owner or marketing professional jumps into a new initiative just because it's the popular or trendy thing to do!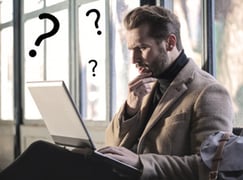 What are the benefits of blogging for business?
How will blogging support marketing efforts?
Why invest in blogging at all?
Rest assured, there are plenty of clear benefits to blogging that you don't have to be an SEO whiz or internet expert to understand.
Here are a few easily relatable benefits of blogging for small businesses:
1. Automate and improve your customer service
An easy way to approach blogging for companies is to focus each post on providing in-depth answers to common questions about your product or service. Ask your customer service team what the top 10 most common questions they receive are and begin writing in depth blog posts answering each one of those questions. This not only delights your audience, building their appreciation and trust for your company but also decreases your overhead by cutting down the amount of time you need reps answering phones or emails! Blogging helps put your website to work for you, automating both customer service and the movement of prospects through the conversion funnel.
Real World Proof
An official Forrester poll on customer service channels showed that use of company websites for help or FAQs has been increasing sharply, moving away from phone calls and person-to-person interactions. The study indicated that customers prefer to seek answers to their questions online first, using phone service as a secondary resort when they couldn't find what they were looking for online.
2. Create opportunities for engagement
From the comments section of posts themselves to social media, quality blog posts encourage and enable engagement. Even if you aren't actively promoting posts on social media at first, getting the content up and running will put you in a good position should you decide to go the social route in the future. Having blog posts active also gives people something to share about online with their friends and colleagues; the definition of free marketing!
Real World Proof
It has long been understood that customers who engage on social media contribute more to company revenue. There have also been hundreds of businesses built on the momentum gained through "going viral", further illustrating the power of social engagement.
3. Increase your online exposure
Keywords are SEO assets, and adding useful blog content both increases and diversifies your website's keyword portfolio. In the information economy, content is currency and blogging is like mining for gold. Not every post will be a whale, but keep at it and you'll start seeing serious gains in no time.
Real World Proof
In a previous post on conducting blog keyword research, we featured case studies on 3 of our clients here at Page One. After beginning blog content publishing, each of these clients saw major organic traffic growth which led to healthy increases in acquired new leads.

---

---
4. Strengthen brand authority
Once you've gotten a few quality posts up and the organic traffic starts flowing in, you'll have already started bolstering your brand authority in a very tangible way. Acquisition aside, driving traffic to your site increases your brand exposure among an audience that is relevant to your industry. Even if you aren't generating sales or leads from blogs, you are reinforcing the perception that your company is an authority in its industry.
Real World Proof
Here at Page One we recently had a resounding success with a blog post for a manufacturing client that quickly began bringing in 1,500+ new users per week. That's ~200 new people per day that become aware of and interact with this company, all thanks to one blog post!
5. Build high-quality natural backlinks
Quality backlinks (links to your website from other websites) are one of the most influential variables on your site's ability to rank well in search engines. Acquiring links can be both time-consuming and expensive, but one of the most effective and efficient ways to gain them is to create quality blog content that is worth linking to! Focusing on publishing blog posts that are relevant, useful, and original will attract natural backlinks to your site which will greatly benefit SEO.
Real World Proof
Anyone can talk the talk, but the proof is in the pudding! Let's take a look at some real numbers (number of backlinks over 1 year) for a few of our clients here at Page One who invest in blogging:

Client 1: Backlinks more than quintupled over 1 year!

Client 2: 100%+ Backlink growth

Client 3: More than 4x backlinks YoY
---
The Downsides of Blogging?
We'll be honest; blogging isn't for everyone.
If you...
Aren't interested in growing your business
Don't want new customers and leads
Can't envision improving your customer service
Won't invest in enhancing your audience's experience with your company
...Then blogging probably isn't for you!
Don't know where to start with blogging for your business?