How to Choose a Blog Topic
Probably the most common question I hear when it comes to blog writing is how to choose what to blog about. More specifically, how to choose a topic that will generate organic traffic. Sure, it's easy enough to write about yourself or your company, but if that's all you're doing then you probably won't see much growth in your organic Google Analytics sessions.
In order to truly move the search engine dial, your blog topics need to be data-driven in 3 aspects:
In demand

- There need to be people looking for the type of information you plan on writing about (search volume)

Relevant

- Your topic needs to speak to the right demographics (targeted audience)

Realistic

- You should be able to create something better than content that already exists on the topic (competition)
I know, finding a topic that checks all 3 of these boxes can seem discouraging and take hours of research. But that's exactly where a scalable keyword research strategy comes in!
A Simple Blog Keyword Research Strategy That Grew Traffic by 1,500%
At Page One we're all about working efficiently; creating data-driven processes that are both effective and easy to replicate. Recently, we came up with a blog keyword research strategy that quickly uncovers keywords and topics that are in demand, relevant, and realistic, all in one fell swoop! The strategy is simple enough for anyone to use and versatile enough to be applied to almost any niche or industry.
Most importantly, this strategy works really well:
We began implementing this strategy for 3 of our clients in the Spring of 2017 and observed their organic traffic over the next 6 months as we continued to post monthly keyword-targeted blogs. All 3 clients had already been posting monthly blogs but had not previously been using our new keyword research strategy. The results?

Client 1 saw an incredible 1,500% YoY growth in site-wide organic traffic and a 200% YoY increase in goal conversions.
Client 2 saw a 300% YoY growth in site-wide organic traffic and a 75% YoY increase in goal conversions.
Client 3 saw a 75% increase in site-wide organic traffic and a 50% increase in goal conversions.
Look at those gains! And did I mention this was accomplished with no black hat SEO tactics and no supplemental link-building campaigns? The only work required was finding the right blog topics, then publishing great content on them.
So you've seen the power of a good keyword research strategy, now it's time to learn how to use one!
Our Step-by-Step Competitive Blog Keyword Research Guide
For the purpose of providing an example, I've randomly chosen a local Maine company, GrandyOats, as a starting point for this guide. But don't worry; the following steps can apply to almost any brand or niche!
Full disclosure: I thoroughly enjoy GrandyOats but have no affiliation with them aside from being a customer. If they happen to stumble upon this post… Well, they'll have found themselves some free blog keyword research!
1. Identify online competitors
Find 3-5 websites of companies or organizations that do what you do. Maybe they sell the same products as you, offer the same services, or have the same mission. Even if you are a local business, keep in mind your online competition may not be who you compete for local revenue with. These are just sites that have a vested interest in writing the same kind of content you do (regardless of location).
The easiest way to do this is to simply search for your broadest, highest-volume, non-branded keywords and see who's currently ranking for them.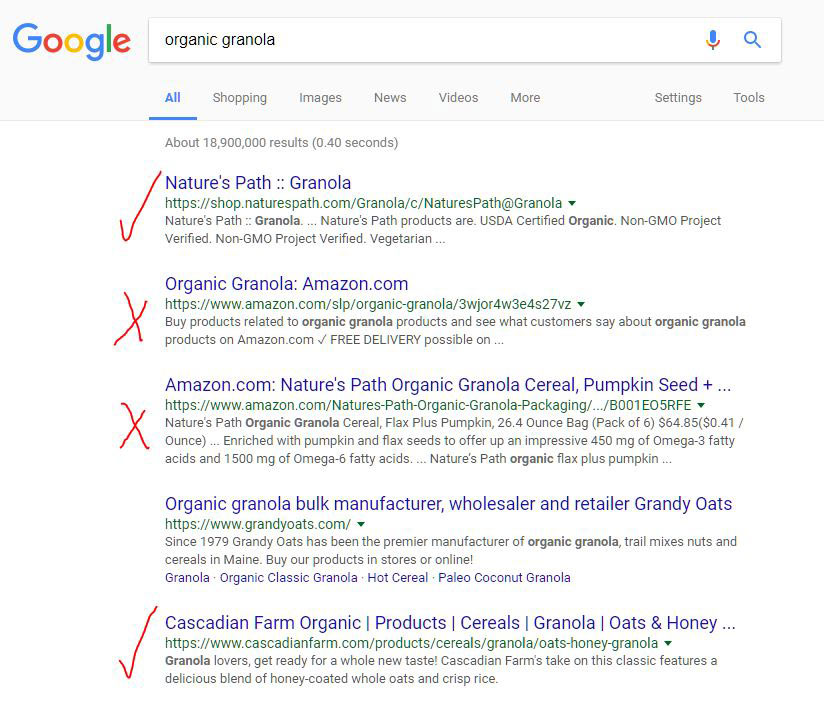 For GrandyOats, I used the queries "organic granola", "granola manufacturers", "organic trail mix", and "bulk granola" to create the following list of competitors:
Naturespath.com

Cascadianfarm.com

Woodstockfarmsmfg.com

Truenorthgranola.com
Pro Tip: Weed out megasites like Amazon, eBay, and Walmart from your competitor list. Most of these don't employ content marketing strategies like blogging and, even if they did, they offer too many different products to have a focused target audience. In our example, we left out a number of sites that ranked for "granola" keywords but also sold/manufactured chips, candy, cookies, etc. because that wasn't in line with GrandyOats' organic and healthy branding. Choose sites with as similar of a target audience to yours as possible!
2. Enter competitor domains in your competitive research tool of choice
From SEMRush to SpyFu, a competitive research tool is crucial in mining good SEO keywords. For the purposes of this demonstration, I'll be using the Organic Research tool in SEMRush.
Important: Enter only the top level domain of your competitor's site, leaving out any slashes, https://, or www.'s. For example, even though the Nature's Path blog is hosted on blog.naturespath.com, we'll want to enter naturespath.com into SEMRush.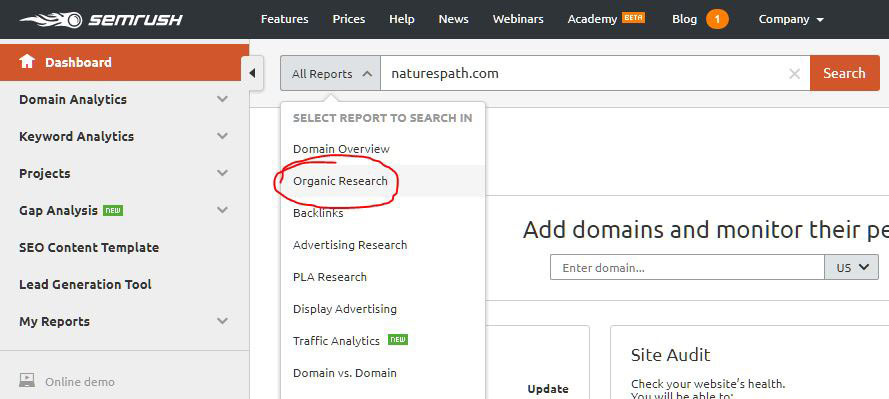 3. Sort competitor's keywords by those that include question modifiers
After you pull up a list of all your competitor's keywords, next you'll want to find out which ones will make good blog topics.
Here's where the magic happens. Rather than spending hours considering each individual keyword (some sites can have thousands, tens of thousands, or even hundreds of thousands of ranked keywords…) a quick way to weed out good blog topics is to search for those that include question modifiers. Here's the list we use:
What

When

Where

Why

How

Is/are

Can

Vs

4. Judge keyword relevance and look for topical silos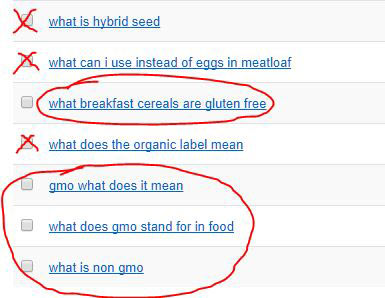 As you search through all your competitor's keywords that contain the above mentioned question modifiers, keep a running list of any that jump out to you as good blog topics. All of these will already be vetted as in demand and relevant as a result of the process we used to find them; all you need to do is pick the ones you'll be able to write high-quality and authoritative content on!
Along the way, keep an eye out for topical silos. These can be defined as groups of different long-tail keywords that speak to the same topic or differently phrased questions that all have the same answer. These topical silos can be gold mines of traffic (ranking for one of these is what resulted in the crazy 1,500% organic traffic growth example mentioned earlier).
5. Form blog topics and get writing!
Finding a blog topic to write about can be difficult, but I hope this post has helped you see how a keyword research strategy can make building organic traffic to your blog so much easier!
Following the above steps should yield tons of ideas for topics that are in demand, relevant, and realistic. Use these keywords as a guide for writing posts that are genuinely useful with catchy titles that will attract clicks. It took me about 20 minutes to come up with this list of potential blog topics for GrandyOats while writing this post with almost no prior knowledge of their industry or vertical:
What

Breakfast Cereals are Gluten Free? Granolas, Oats, and More…

Steel Cut Oats

vs

Instant Oats: The Difference You Might Not Know

10 Reasons

Why

Organic Food is Better for You and Your Family
The next step it to set an attainable blog publishing goal for yourself, create a schedule using your topics, and get writing!
P.S. If you are reading this, you're welcome, GrandyOats!
---
Want more helpful inbound marketing tips?