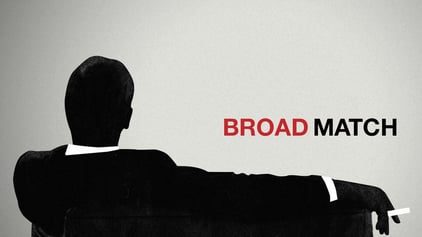 Thank you for joining me this early in the day. I hope you have already had your morning scotch, because we have to discuss a particularly important matter for this agency. I'm talking about broads. Bringing more broads into marketing. If this is upsetting you, grab another drink and listen to me. You're thinking that broads are expensive for paid search, not relevant to our products, and make poor impressions that rarely give a potential customer a reason to click. What you don't see is how invaluable broads are to our success in our AdWords campaigns. We will always strive for a focused approach by using phrase and exact match keywords, but broad match keywords will give us a unique insight into the minds of our client's customers.
Pay For The Click, Get Free Insight
Broad match keywords, as I previously mentioned, will usually cost more for a click than their phrase and exact match counterparts. While these clicks sometimes come at a premium, broad match clicks will also give you a glimpse into the "why" of a click. Simply select a broad match keyword from your ad group (as long as it has some activity; usually a week of data will yield results), click the "Details" button, and select SEARCH TERMS / Selected, as illustrated below: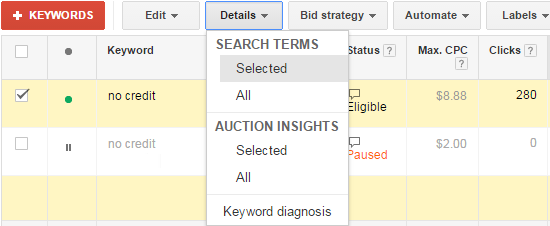 Here, you'll find a very helpful list of actual search terms that resulted in a click for your ad group. You'll be able to improve your campaigns in a number of ways:
Add new keywords that you had not previously considered
Add actual searched keywords as phrase or exact match for future lower cost clicks
Build your negative keyword list to reduce spend on irrelevant clicks
See related search terms that a clicking user has searched during the user's session
Help your SEO team out by finding new keywords for relevant content creation and be the secret weapon in their SEO Tool Box
It's 2015: Time to Let Broads Into Your Marketing
Each day we are plodding further and further into the future. It's time to forget about past aversions to a potentially costly and seemingly wasteful keyword match type. Broads are just as capable as their phrase and exact match counterparts. If you're stuck in the past and simply hate the idea of working with broad match, try a modified broad match approach. Your search term report on a modified broad match keyword will still yield examples of actual search terms that users have entered.