No two digital marketing campaigns are alike. However, while we take a custom-tailored approach to every client's goal, we always begin with the basic fundamentals.

For website development, these fundamentals include a responsive theme and a user-friendly Content Management System like our beloved WordPress.

For search engine marketing (sometimes referred to SEM or paid search marketing), these fundamentals include employing remarketing and a separate "brand" campaign from your "non-branded" or service-based campaigns.
...We know what you're thinking.
"Why do I need to bid on my brand name if my website will always appear 1st organically anyways?"

"Why would I pay for clicks I normally get for free?"

"Users would rather click on an organic listing than a paid one, right?"
These questions are totally valid. It's easy to assume that this strategy will cannibalize organic results; that pausing brand paid search campaigns will have no impact on traffic because those users will just click on organic results anyways. It's also easy to assume that users know better than to click on ads that don't reflect the brand they originally searched.

We beg to differ.

Here are 5 reasons why bidding on brand terms should be an integral part of your paid search campaign.
1. Improve your Quality Score and overall account health with a lower cost and higher click-through rate.
Because your website naturally reflects your own brand the best, Google will reward you with a very low cost-per-click for branded terms - sometimes only a few cents, and rarely over $1. And because these ads are bound to perform better, yielding a high Quality Score, your account as a whole will reap the benefits.

Brand ads are especially important if you've recently rebranded your company or if your ad account is new (think: ease into the game by playing your best hand).

Set the foundation of your account with a guaranteed high-performing campaign by bidding on your brand name.
2. Your competition may take notice if you don't.
Though it's pretty likely you'll show up in the top positions organically for your brand name, it's not always going to happen. This is especially true if your brand name is similar to others', and if you're in a particularly competitive industry - such as law or pharmaceuticals - companies are willing to bid on just about anything to snag a qualified click, including their competitor's name.

Google just about any big-name company and you'll notice they're bidding on their brand name. Do you think Clorox would have trouble getting organic clicks? It's not about the dollars, it's about the dominance.
3. Google will take note.
This is not to say that Google favors its ad buyers (though some may di$agree), visits from paid search can lead to stronger signals for search engine algorithms. If you have a paid search campaign driving traffic to your website filled with the best content the web has to offer, Google will take note of your website's popularity and relevancy among users.

Highly targeted, unique content on your paid search landing pages and within your ad copy is more likely to generate clicks - thus more engaged, bottom-of-the-funnel traffic on your website. In Google's eyes, your site is a top player, and your rankings will see the difference.
4. Take up as much real estate as possible.
Because search engine results are changing rapidly, having ads appear for brand terms adds authority to your business by appearing in all three positions - ads, local results, and organic results.

This year especially, Google has been shaking up the SERPs with the end-goal of better serving users and making their search experience quick and easy. With more and more variants showing up in the SERPs - from site link extensions and expanded map packs to product listings and answer boxes - there is less space available for purely organic results.

Take a look at this mobile result for Dick's Sporting Goods - it's no wonder users are less likely to distinguish between organic and paid listings. Why scroll when everything you need (including a promotion!) is right at the top?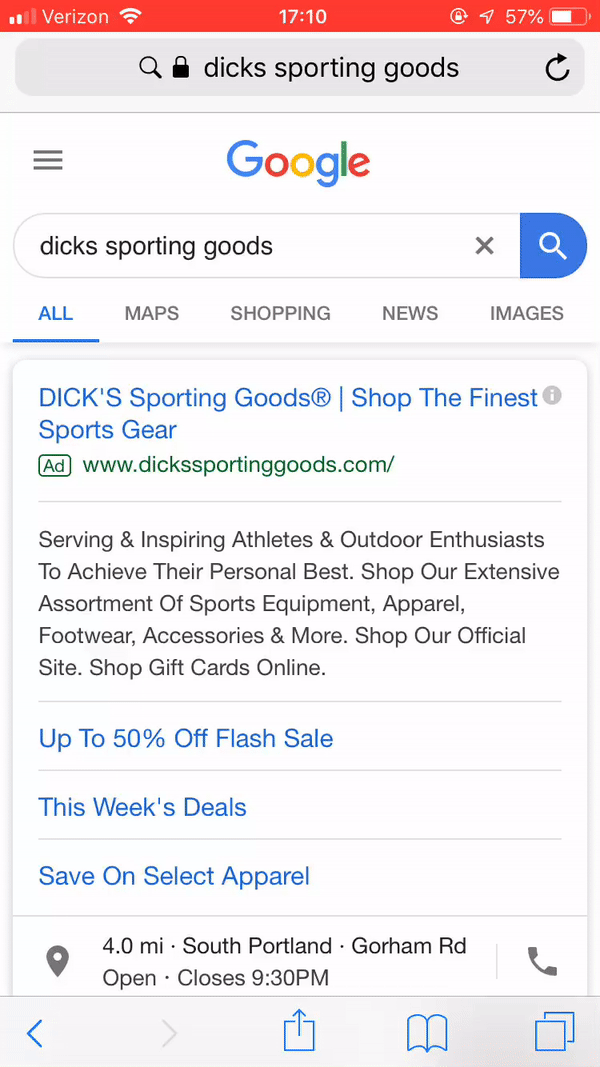 5. You can control your messaging with site links and special offers.
Though we strive toward getting site links to appear as part of our organic efforts, it's not always guaranteed, and if they do appear, we have little control over exactly what pages Google pulls (see the results for Page One below).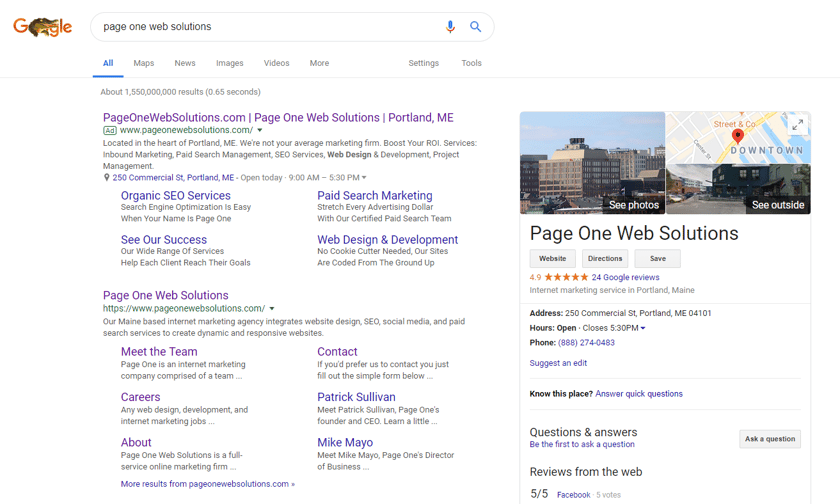 With paid search, however, we have complete control over site links. For our campaign, we focused on our Services pages and Portfolio, both of which help push leads along the conversion funnel.

Site links and ad extensions only help your ad gain visibility and increase click-through rates.

Brand terms, to us, are a necessity for every campaign no matter what your industry or budget.

If you're still not convinced, do what every digital marketer resorts to doing (we swear, this is the answer to our problems, like, 85% of the time): test it. Pause bids on your branded terms for at least 60 days and see if your organic CTRs for brand terms increase.

Happy bidding!