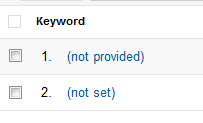 We've been getting this question a lot lately... when you look at your Google Analytics keyword traffic and see "not set" or "not provided," what does that mean?
When you see "not provided" in your keyword reports it tells you that someone was either logged into their Google account when they were searching or that they were using a browser that is specifically keeping their searches hidden (Chrome does this and calls it "incognito" mode).
In an effort to adopt stronger security standards as they move into the realm of personalized search results, in late 2011 Google started encrypting searches. When people are logged into their Google account, the URL changes from http to https and Google Analytics will still capture that your visit came from Google but it no longer tracks each individual query and the associated information. The reason we have seen more and more "not provided" keyword traffic in our analytics is most likely due to the growth of people using Google accounts both personally as well as professionally.
Google describes the "not set" data as a placeholder when it does not have the information for a particular dimension. Many times, in our experience, it's found in the Advertising reports. We love this support page created by Google Analytics that describes various items to review in order to get access to the "not set" data in your reports.
It has created quite a headache for many internet marketing professionals who rely on keyword data to understand site traffic and improve organic rankings and paid performance. A blog posted by Kissmetrics has been very helpful in learning new ways to "unlock" the "not provided" data set in your Google Analytics.
One of the most common ways marketers are overcoming this challenge is by utilizing Webmaster Tools and integrating that data with Google Analytics. This way you are able to get a better overview of keywords that are bringing people to the website under the "Search Queries" menu; as well as organic impressions your website receives for particular keywords.

In discussing this with our team, David shared one of the things he assumes about keywords when the keyword data isn't provided. He pointed out that when a website gets traffic to multiple landing pages, not just the home page, it is a reliable way to conclude what keywords are driving traffic. For example, if you own a hardware store and you get a lot of traffic to yourhardwarestore.com/garden-hoses and you know that page ranks well for the term "garden hoses," you can assume that "garden hoses" is a term that drives organic traffic. Thanks Dave!
What ways have you discovered that help to overcome this challenge? Please share in the comments section below.